Feniex T3
Shipping:
$0.99 (Fixed shipping cost)
---
Product Description
BRIGHT, TOUGH & COVERT!

the NEW Feniex Cobra T3
Each light module has 3, 4watt Leds, Making these the Brightest T3 in the market!
Made in the USA, with Feniex's famous 5 year NO Hassle Factory Warranty
specs:
5 Year Warranty

SAE J595 Certified

Input voltage 12VDC

California Title 13 Certified

Temperature Range up to 149°F

3, 4-watt CREE LEDs in each module head

Built in aluminum black surface mount

Dimensions: 0.99" H x 3.35" L x 0.77" W

Water sealed and weather damage resistant unit

Slim module head under 1" tall for optimal stealth lighting

13+ patterns including brake mode, tail mode and steady on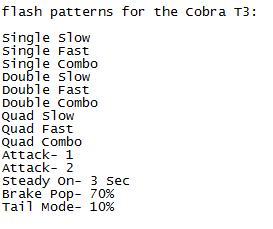 Shop for Brackets here: BRACKETS
**International Shipping charges will be invoiced separately ahead of shipment
---
Warranty Information
Warranty
Feniex Industries, Inc. warrants to the original purchaser that the product shall be free from defects in material and workmanship for 60 months from the date of purchase for all LED products. Feniex Industries warranties speakers, sirens and controllers for 24 months.
---
Find Similar Products by Tag
---
Find Similar Products by Category
---
Product Reviews
Very bright

Posted by Unknown on 12th Sep 2017

Very bright lights and very well made. Ive paid more for less of a product. Will be ordering more.

---

i shoulda bought 10 packs.....

Posted by get20 on 22nd Apr 2017

i keep finding places to add these to my truck. so far i have 4 in the grill, both front and back license plate braket sets and 2 fit perfect under the tailgate. picked up a toolbox want to add a bunch on that and side steps.

if anyone is considering buying these.. don't hesitate.. buy a bunch.
i have some that are 2 years old. no problems at all.

---

Great little lights

Posted by Unknown on 30th Mar 2017

Orders a couple to T3s for the back window. Small but effective light. I run 2 white and 2 red in my POV cannot really notice them when off. But on they do a great job of moving traffic.

---

Bright, Compact and Just What I Needed

Posted by Unknown on 30th Dec 2016

These little lights really shine, daylight and night. I ordered 2 reds and 2 whites and if you put them close together it really stands out. Would order them again if needed but these look like they will last a long time

---

Great!

Posted by Austin on 17th Nov 2016

These lights worked great in costumer's grill.

---

Bright Light (Lumière puissante)

Posted by Fred for Media Moto Securite on 20th Jun 2016

Very good and bright light for the size.I recommend them.

---

good stuff

Posted by Unknown on 22nd Apr 2016

.

---

Love!!!!

Posted by Michael H. on 8th Feb 2016

I Love these little lights they are simply the BEST little TIR optic IMO don't get me wrong the Feniex Cobra T6's are good too. ( and in some cases the T6's are a better choice ) but these little lights Rock.




---

Using Tons of these!

Posted by Unknown on 19th Dec 2015

These little lights have proven to be EXTRA bright. Been using them on various vehicles/trailers/offroad/even a snowblower early this year. they are tough, no failures and simply real bright.

---

t3

Posted by Unknown on 26th Jul 2015

Great lights for the money!

---
---
Customers Who Viewed This Product Also Viewed