Product Overview
PRE-ORDER
Amber

-CLEAR LENS Beacons from TecNiq with AutoSync!
TecNiq K10 Public Safety BEACONS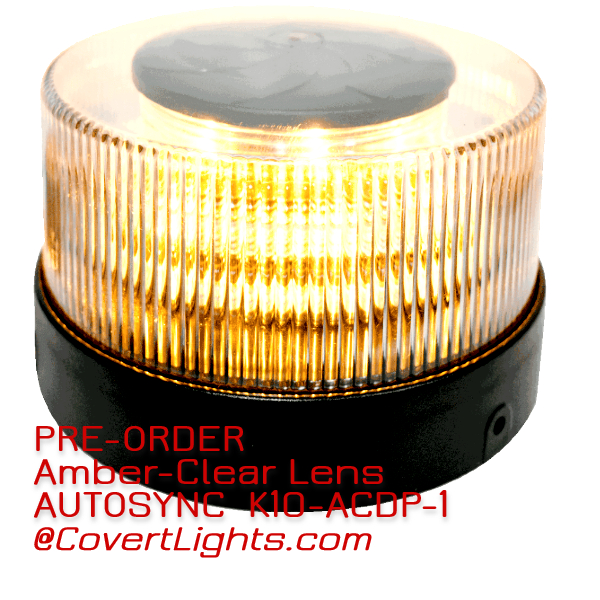 Features:

TecNiq's LED omni-directional K10 beacon light is ideal for Emergency and Public Safety vehicles.
The K10 Heavy DUTY High Performance warning light is designed for use in the most extreme environments and will come with TecNiq's lifetime warranty.

The Amber Clear Lens beacon light is PRE-Order with AutoSync flash,TecNiq's patent-pending technology
enables multiple lights to hold a synchronized flash pattern without the added cost of a light
control or interconnection between lamps.

Beacons are SAE J845 Class 1A and Class 2A compliant with a fully sealed
polycarbonate lens and 24 attention-grabbing LEDs providing 360° of coverage.
The K10 beacons are waterproof and shock resistant.
Installation of the 12/24 VDC beacon light is straightforward with the included 8.5" wire lead.

Surface or 1" pole mount configurations and can be fitted upside down.
Measures 6.35" wide at the base and 4" high.
IP68 Rated – Dust and Waterproof

Approval: SAE J845 Class 1, California Title 13

Power: 12V/24 VDC

Surface or 1" pole mount option

Multiple flash patterns

Black powder coated die cast aluminum base

Includes mounting gasket to protect vehicle surface

Optional chrome plated steel brush guard

Lifetime Warranty


Specifications:

Dimensions: 7.04" diameter x 4.6" Tall (with optional brush guard)
LEDs: 24
Voltage: 12/24 VDC
Current: Hi - ≈ 0.7A (average) – 1.7A (peak)
Lo - ≈ 0.17A (average) – 0.3A (peak)
Wire: 8.5" pigtail
Mounting: Surface or Pole Mount (1" NPT width)
LED Colors: Amber

Autosync Version 5 Wire Pigtail
Colors:
Red Wire 12V DC Power
Black Wire Ground
Yellow Wire Low Intensity(Night Mode)
White Wire Flash Pattern Change
Blue Wire w/ white stripe Wig-Wag wire (AutoSync)Connect to power for opposite phase

K10-ACDP-1 K10 AMBER Beacon Light CLEAR Lens with AutoSync

PRE-Order TODAY!
Warranty Information
Lifetime
Reviews